Special valves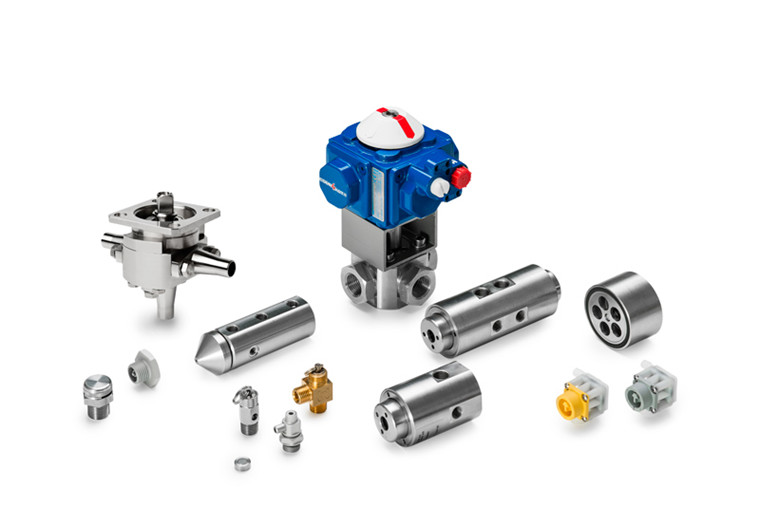 Special valves
More that 40 years experience in production and sale of our own valve programs has made EV Metalværk one of the leading companies in development and production of special valves.

Do you need a special valve solution, we have great success in customizing our standard valves, so just small changes can achieve good technical and cost saving solutions.

Our valve solutions are developed and implemented in the following industries:

► Food industry
► Chemical industry
► Medical industry
► Cleantech
► Paper industry
► Oil industry
► Pumps

Through our great experience in handling regulatory requirements for labeling, certification and classification, we can always help and advise in these areas.

We can also give you guarantee of spare parts, and with specialized solutions, you will always receive a complete folder with parts lists and drawings.

Examples on special valves:
► Refrigeration plant
► Cleaning systems
► Engines

We create the right valve solutions for you!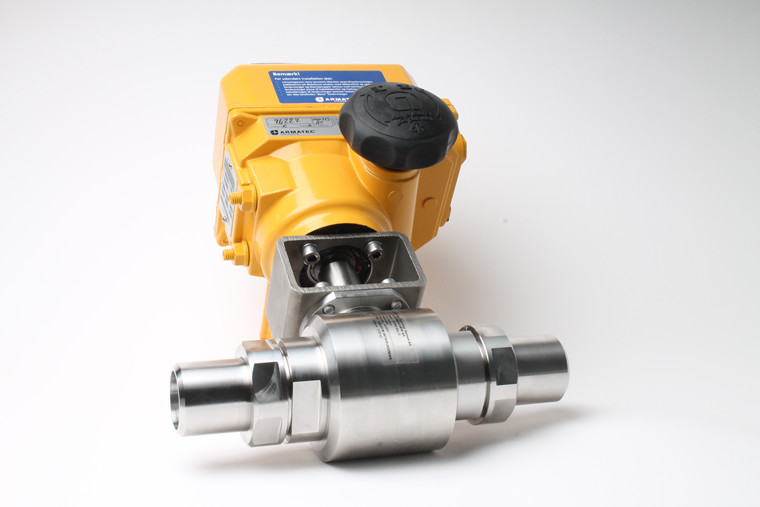 Sanitary ball valve with welding connections and actuator
Example of a customized sanitary Hydro Ball® ball valve in acid proof stainless steel with welding connections in Sandvik and o-rings in EPFDA. The parts are FDA compliant.

Pressure: PN 500 bar

Temperature: ÷ 50°c to + 130°c

Dimension: 11/2" welding connections

It is possible to choose among several types of actuators (the picture shows an electric operated actuator).

This is just an example of a customized valve, which is based upon our stardard Hydro Ball® valve serie.

PRICE ON REQUEST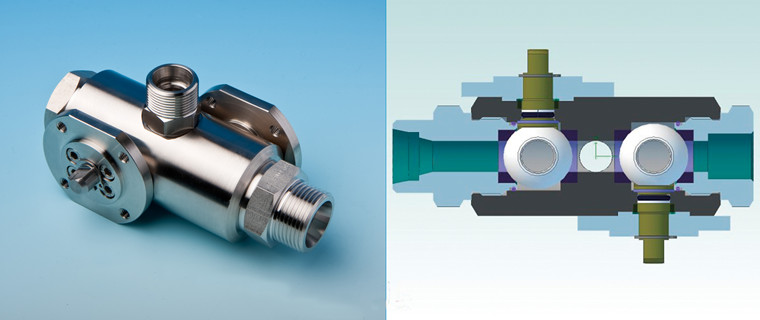 Sanitary double valve with actuator operation and switch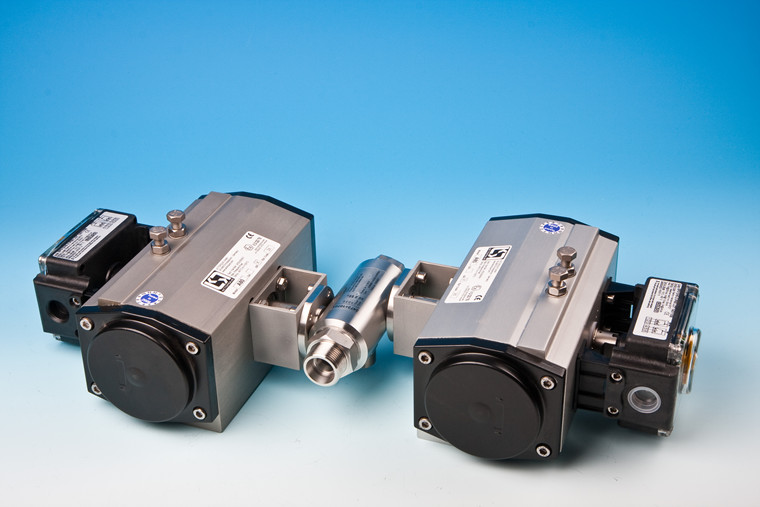 All parts in contact with the medium are produced in FDA aproved materials.
Housing material: AISI 316L
Dimensions: ½", Ø50, L: 142 mm

THE VALVES CAN BE SUPPLIED WITH WELDING CONNECTIONS – please contact us for further details!

Sanitary valves are available as one way and two way models.

PRICE ON REQUEST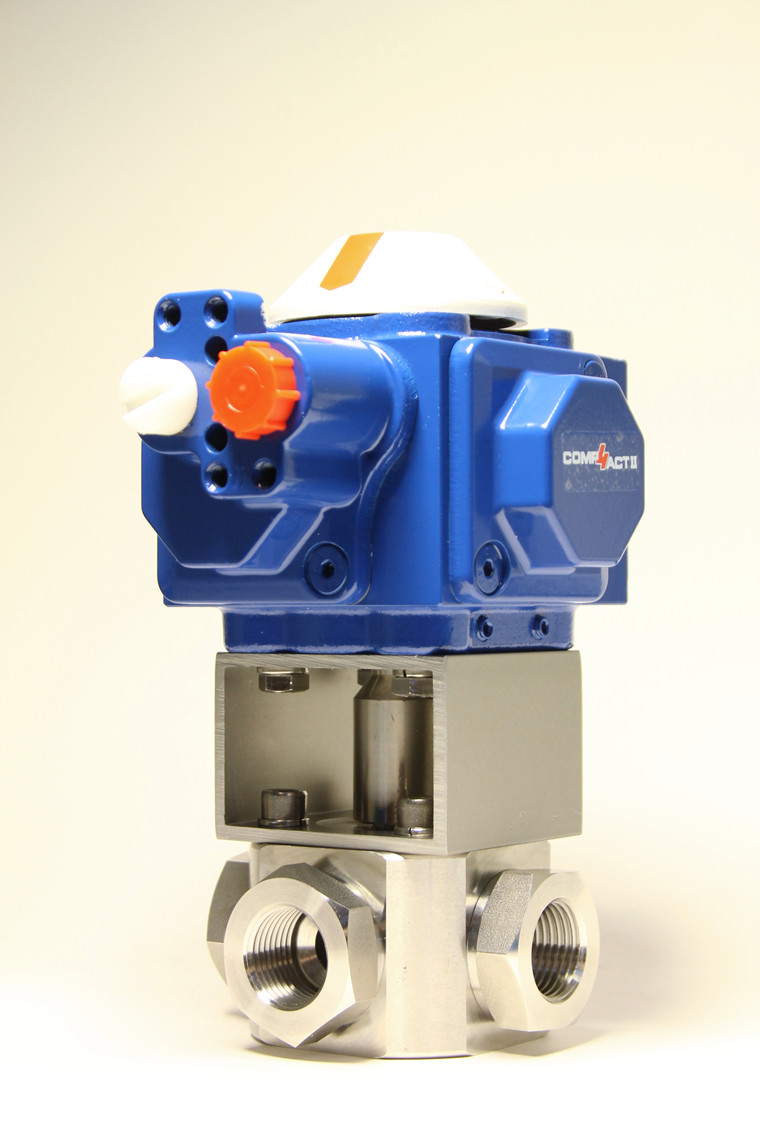 Semi sanitary 3-way Hydro Ball valve

This valve is suitable for the chemical industry, where very agressive media are used, i.g. where the media are crystallized and tend to harden, or where there is a severe grind.

Futhermore, it is suitable, where it is required, that the valve can be emptied totally. This is done very easily, as all the cavity is filled out with carbonated teflon.

Working pressure: Up to 200 bar
Temperature: Max 180°
Connection: ½" female thread
Material: AISI316L
Boring: L-bored
O-rings: FPM viton (other materials are available on request)

Actuator according to requirement - pneumatic or electric.

PRICE ON REQUEST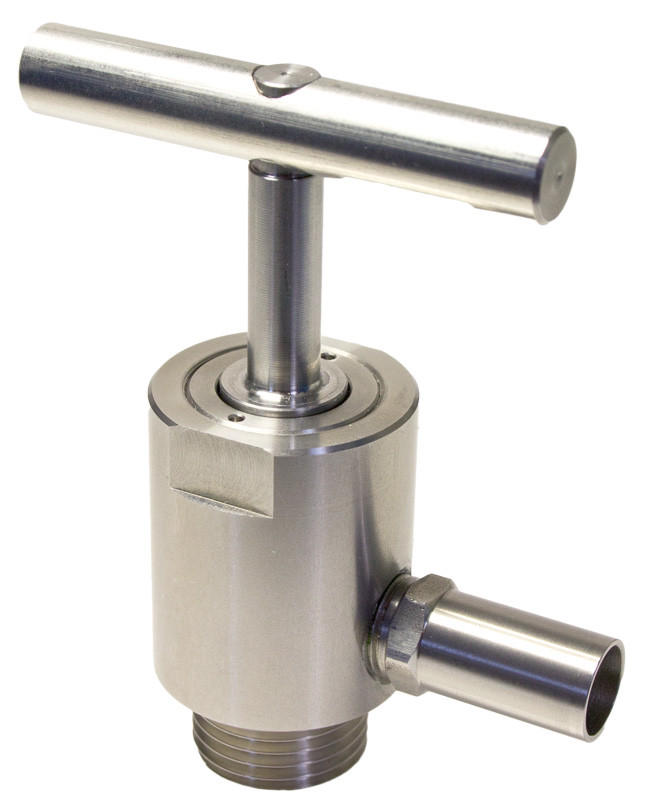 Sampling valve
The special design in stainless steel makes the valve suitable for jobs and projects, where a sampling is required (e.g. water treatment plants)

Pressure: Max. 6 bar
Temperature: 0-100°c
Fluid: Water (H2O)

The valve can also be used as a drain valve.

The valve will also be suitable with other fluids than water – please ask for quotation.

PRICE ON REQUEST



Three-way seat valve
Housing material: AISI 316L
Engineered with pistons and seat seals of plastic.
Long-term tests have shown more than 750,000 operations without failure.

PRICE ON REQUEST


Check valve in AISI 316L
Pressure range up to 40 bar for use in applications where particularly strong pressure surges may occur. Special requirements on nominal dimensions.
Dimensions: 1½", Ø55, L: 35 mm

Safety valve with threaded aluminium splash cap, for ammonia
Material: Copper-free, anodised aluminium
Precise action, remains tight up to opening pressure
Seal: O-ring and X-ring
Dimensions: HEX22, L: 30 mm incl. cap

PRICE ON REQUEST


Safety valve in aluminium
Pressure: 0,25 bar
Materials: Housing, ball and spring in seawater resistant, anodised aluminium.
Dimensions: HEX27, h: 18,5 mm
Connection: 3/8" BSP

PRICE ON REQUEST


Angle safety valve with cap, for liquid
Designed using parts from other standard EV valves, thus eliminating the cost of new moulds and maschine tools.
Opening pressure: 5 bar
Material: Brass
Dimensions: 27x45 mm incl. cap

PRICE ON REQUEST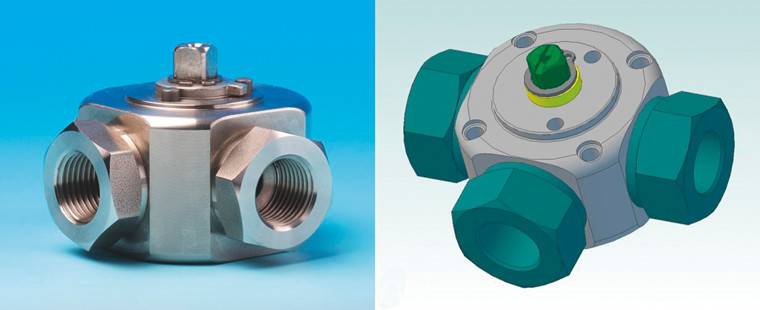 Three-way valve for manual or actuator operation
Pressure: 160 bar
Material: Housing, ball and seals in two different titanium alloys (Grades III & IV)
Dimensions: ½", Ø65, h: 47 mm

PRICE ON REQUEST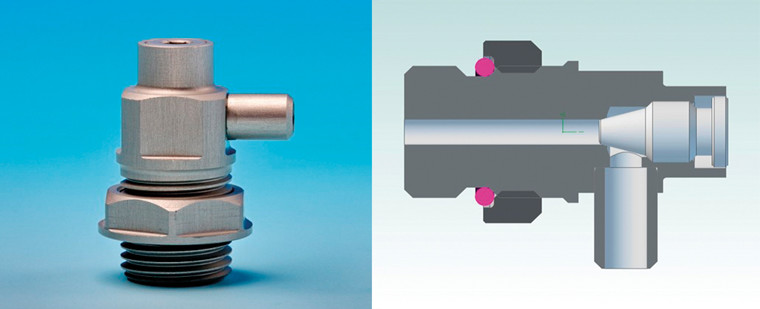 Drain valve in aluminium
Material: Produced in seawater resistant, anodised aluminium for use in maritime environments
Dimensions: HEX16, h: 30,5 mm

PRICE ON REQUEST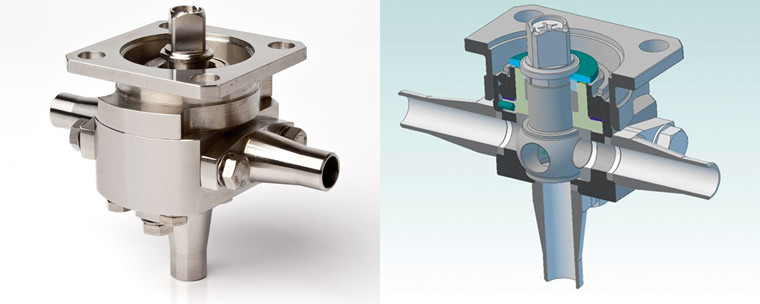 Actuator operated sanitary 3-way valve
With removable gasket and spindle for effective cleaning.
Also avaiable as a 2-way valve.

PRICE ON REQUEST